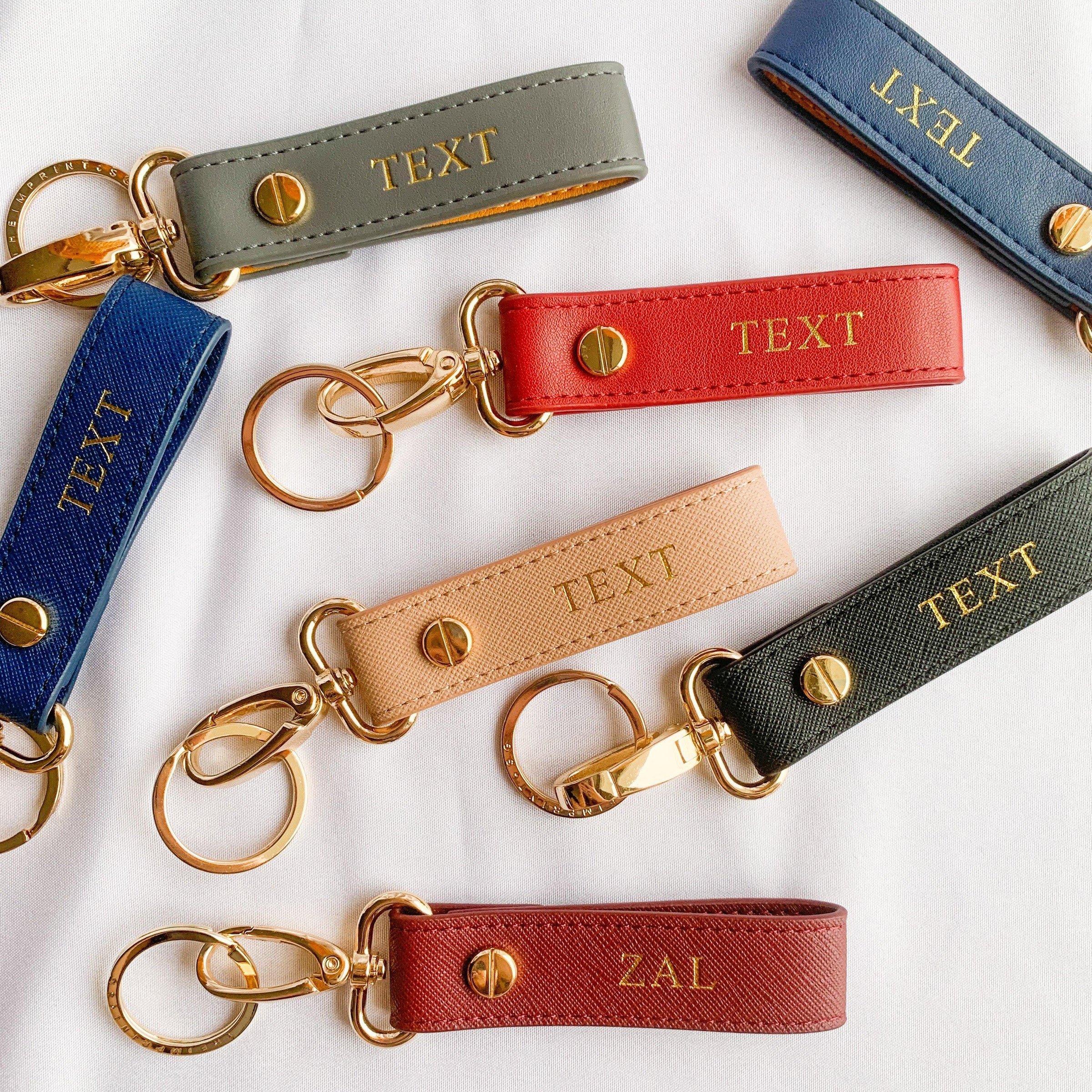 Personalised Leather Keychains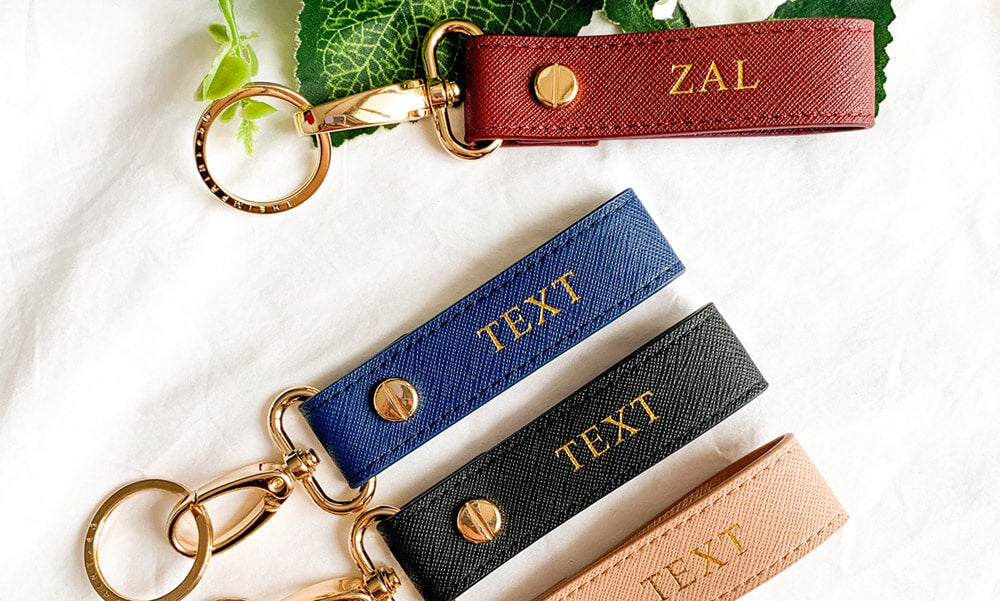 Stay organised while still being classy with our personalised keychains! This elegant accessory will keep all your keys organised and easy to spot in your bag.Having the ability to apply personalised monogramming will make this leather keychain truly unique. You can easily buy it for yourself or as a gift.Our keychains are available in 9.2cm by 2.3cm and in 7 fashionable styles. If you are looking for a platform to personalise your very own leather keychain or keyring, look no further than THEIMPRINT Singapore!
WHY CHOOSE LEATHER KEYCHAINS FROM THEIMPRINT?
There are several reasons why we should get gifts for our cherished ones. Whether you are looking for the ultimate birthday gift in Singapore or a romantic gift to impress your loved one, the task of finding the perfect gift that checks the boxes in terms of functionality and stylistic appeal requires a lot of thought and can be a challenge. But here at THEIMPRINT, we've got you covered with a selection of the most stylish and practical gifts that are designed to last and serve a purpose. As one of the leading online gift stores in Singapore with numerous personalised gifts. Besides leather keychains, you can also personalise a passport holder and a phone case.
At THEIMPRINT, we only use animal-free leather and will take measures to not compromise on our leather quality. Using microfiber technology, our microfiber leather is designed to last. Therefore, you can rest assured that our products, including our keychains are designed to stand the test of time.
FUNCTIONAL AND STYLISH
Our leather keychains can hold all your keys, saving you from rummaging through your bag all the time. We use durable vegan leather that is not only cruelty-free but also scratch, tear and abrasion resistant. Lightweight, soft and smooth, you do not have to worry about these keychains adding more weight to your bags. Our keychains feature a sleek design that can complement your other leather items such as cardholders and customised notebook. 
PERSONALISED AND CUSTOMISED
Let THE IMPRINT Singapore assist you in showing your personality with your leather items by monogramming your name onto your leather keychain. If you choose to give this as a gift, we can customise the recipient's name or initials as well. We also offer diverse options for you to customise your keychain to your unique specifications. Take your pick from 4 versatile shades of keychains: Black, Navy, Burgundy, and Nude. Then, pick the font colour of your choice according to your preference: Gold, Rose Gold, and Silver. You can also decide between 2 types of fonts: Classic and Minimalist. 
AFFORDABLE
We have a wide range of leather products at prices that don't break the bank. Sceptical? Check out our customer reviews, 
CONTACT US
With a range of gifts for both men and women and individuals of all ages readily available online, make THEIMPRINT you one-stop shop for all things gifting-related. So what are you waiting for? Browse our extensive catalogue of gifts, including our keychains, and surprise your loved ones today! Our personalised and customised gifts will be ready in 1 to 4 working days and delivered to any residential address in Singapore within 9 days. Need your gift urgently? Do not hesitate to reach out to us at hello@theimprint.sg. Should you have any questions about customising leather keychains on our website. Please feel free toget in touch with us.
FREQUENTLY ASKED QUESTIONS ABOUT LEATHER KEYCHAINS IN SINGAPORE
At THEIMPRINT Singapore, our keychains are made from high-quality Saffiano Reinforced Vegan Leather, just like our other signature products. Our vegan leather also mimics the microscopic structure of genuine leather, so you can rest assured of its durability and quality. Scratch, tear and abrasion resistant, this animal cruelty-free material is one that will stand the test of time with ease.
This is highly dependent on your or your recipient's personal preferences. But for a keychain to be aesthetically pleasing, there first needs to be a solid foundation set up, and no one understands this better than THEIMPRINT. Using only high-quality, premium materials that are designed to last, our keychains are the perfect base for all customisation. 
There are a plethora of customised gift ideas in the market today, but how exactly can you customise or personalise your gift? Look no further than THEIMPRINT for your answer. At our gift shop in Singapore, we personalise your keychain orders by monogramming your initials or names onto the keychain. But that's not all, from the keychain colour to the keychain font colour, you can customise them all according to your preferences at THEIMPRINT.
Our elegant and stylish keychain is perfect for everyday life. This accessory will be able to keep all your keys organised and easy to spot in your bag. Looking for something to up the levels of practicality? Pair your keychains with a cardholder by getting our Best-Selling Bundle Set.