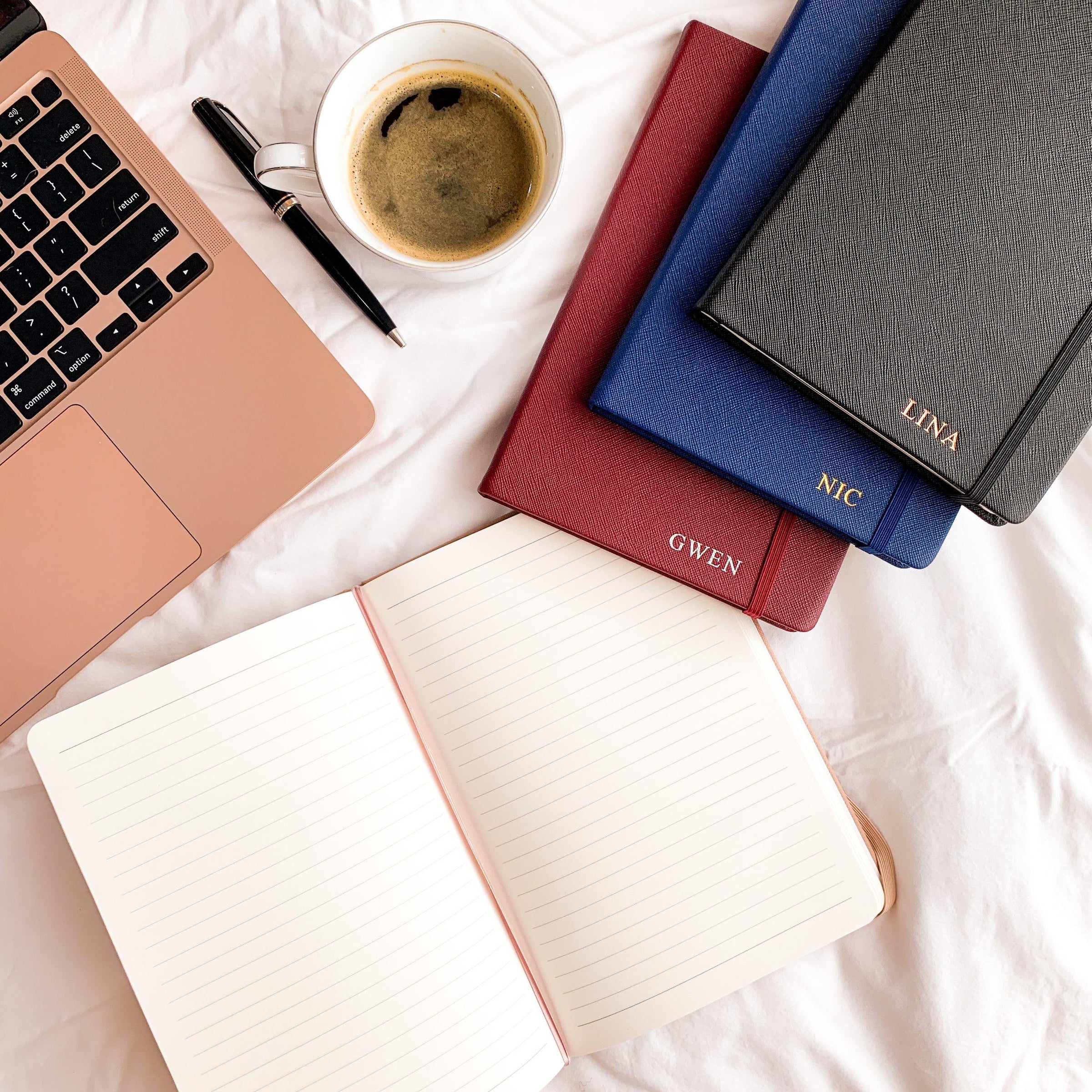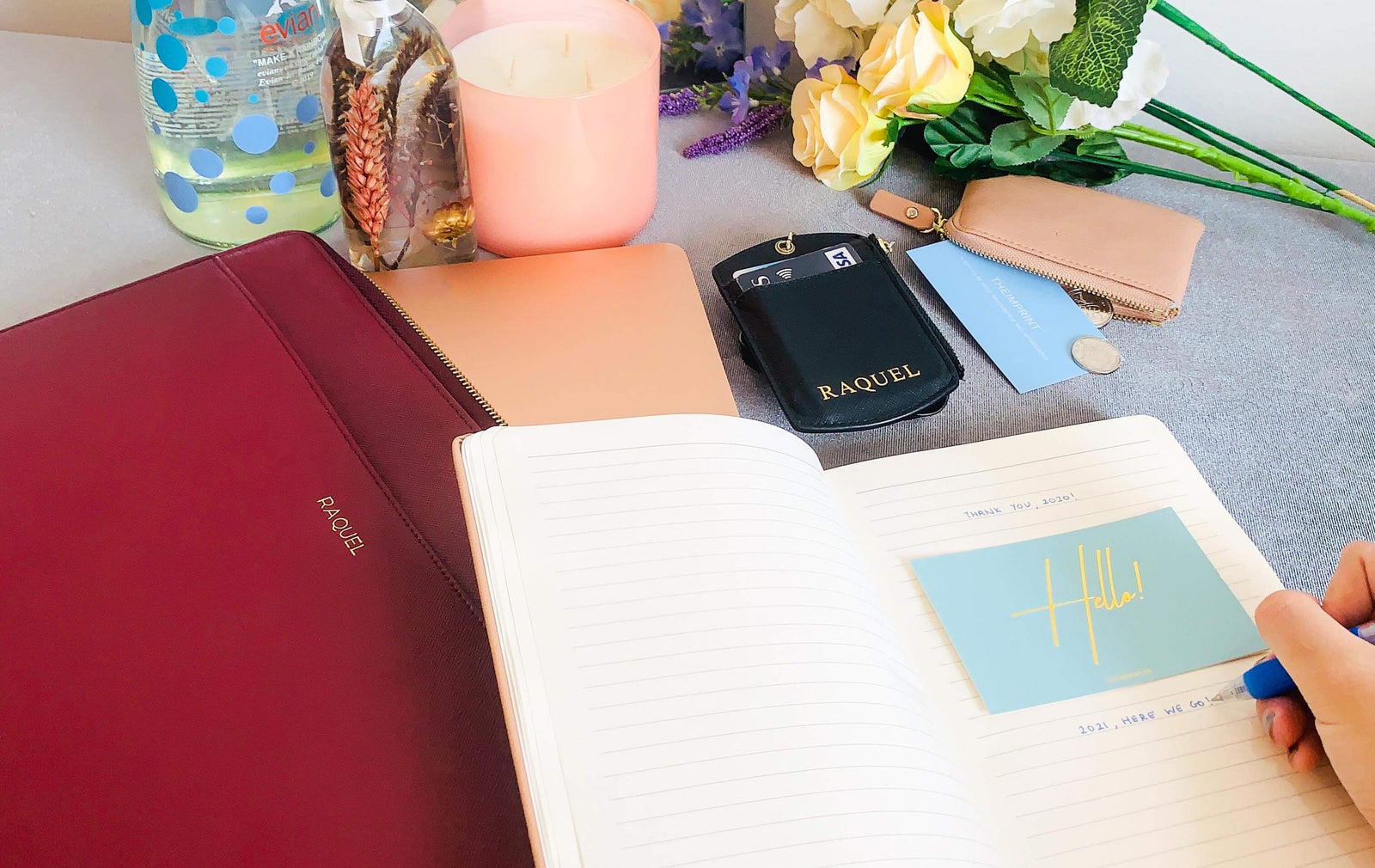 CUSTOMISED A5 NOTEBOOK
Personalise your go-to notebook, your secret diary or even your yearly bullet journal planners with your name or initials at THEIMPRINT Singapore today! Our customised A5 notebooks and journals are our top-selling products for a gift or personal use. Designed with the idea of simplicity and class, these notebooks are perfect for your day to day use. To add on – they are also covered with Saffiano leather to give it a superb feel and look.
 BOUNDLESS POSSIBILITIES WITH A CUSTOMISED NOTEBOOK
Our notebooks are not only ideal for note-taking, they also serve as a versatile keepsake. Whether you are looking for a journal, a planner, a customised diary, or simply need an avenue to write and jot down your thoughts, THE IMPRINT Singapore has got you covered.
When at THEIMPRINT, be sure to check out our personalised A5 notebooks that allow you to emboss your name or initials on them. This notebook is perfect for everyone – for a friend who enjoys indulging in writing, or as a corporate gift for a colleague at work who loves penning down meaningful moments. With a notebook from THEIMPRINT Singapore that spells simple and classy, you can be sure that it will never go out of style.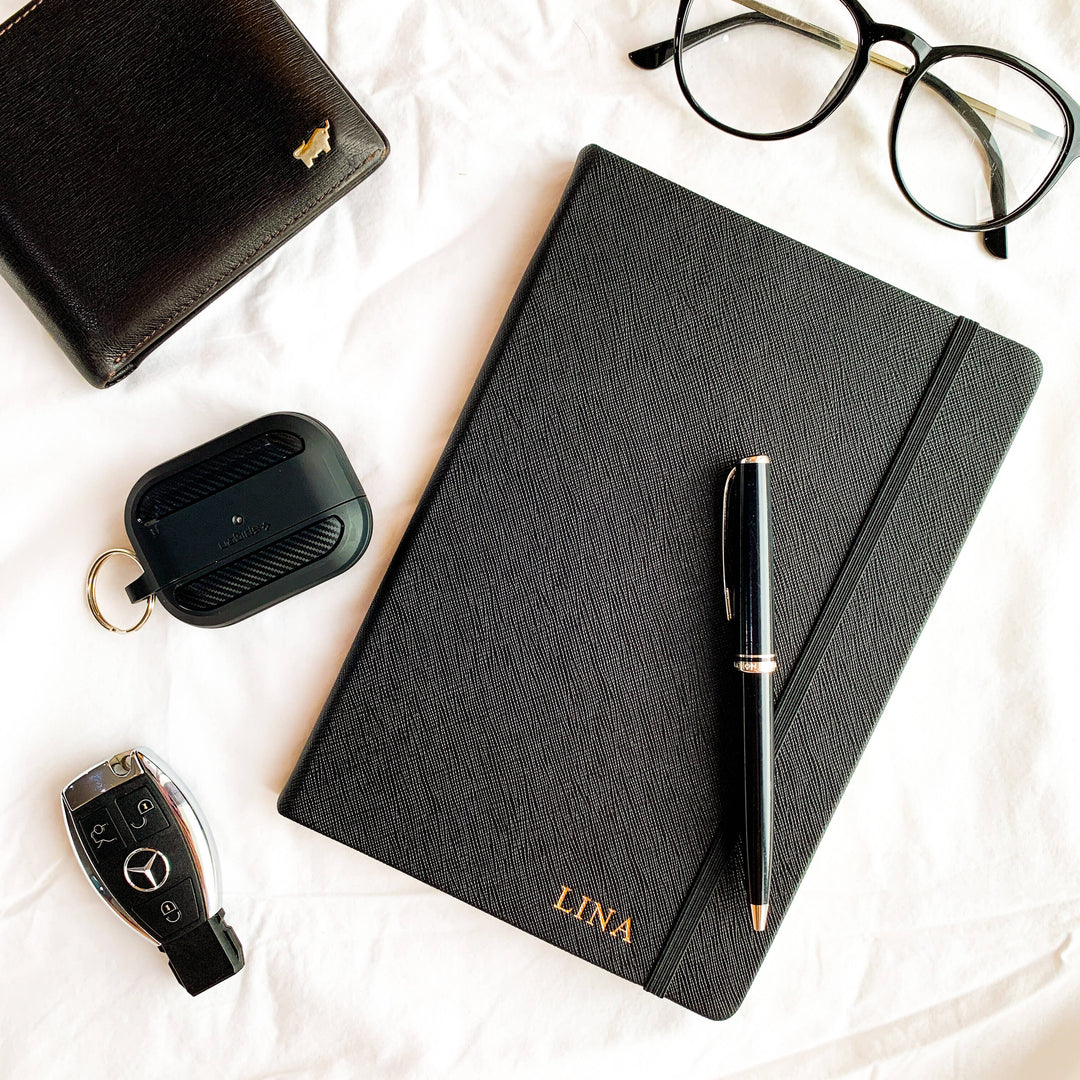 WHY CHOOSE THEIMPRINT? 
The notebooks, diaries and planners at THEIMPRINT Singapore are made with a microfibre technology, which is designed to prolong the lifespan of the leather. We make these gifts for men affordably available, without compromising on the quality. On top of that, our team strongly believes in producing animal-friendly products. Whether you opt to get your customised A5 diary embossed or not, you can be assured that no animals were harmed in the production.
THEIMPRINT is one of the leading online personalised gift stores with an extensive collection of customised gifts in Singapore. Uncover unsurpassed travel essentials, work essentials, everyday essentials, and more right here.
Beyond adding an extra special touch to our products for a truly unique gift in Singapore, we are also here to give you an extraordinary shopping experience. With our commitment to delivering outstanding services, you can count on us in delivering nothing short of excellence.
CONTACT US
If you have any questions regarding our customised A5 notebooks or the personalisation process, please do not hesitate to reach out to our team in Singapore. We are more than happy to assist you with any queries you have.
Get in touch with us today!
FREQUENTLY ASKED QUESTIONS ABOUT A5 NOTEBOOKS
Yes, you can preview and edit your personalised A5 notebook styles and designs using our digital mockup tool, which can be accessed as you make your order, allowing you to see exactly how your design and personalisation will look once it's completed. This gives you room to make any necessary changes or adjustments to ensure that it's exactly how you want it to come out before making your purchase. 
Our standard processing time for A5 notebooks is typically 1 to 3 working days. Once your order has been processed, you can choose from several delivery options, each with its own estimated delivery time.
For local delivery in Singapore:
SingPost Normal Mail (Free): Delivery lead time of 3 to 5 working days
Courier ($4): Delivery lead time of 1 to 3 working days
Self-collection at our Funan/Nex store: We will notify you via email or SMS when your order is ready for pick-up. 
For international delivery:
DHL Express: Delivery lead time of 2 to 8 working days
Please take your time to carefully consider the delivery options available for your A5 notebook order to ensure that you receive it in a timely, convenient, and secure manner.
If you wish to return or exchange your A5 notebook, please note that we have a 14-day window policy from the date of purchase. To be eligible, the notebook must be unused and in its original condition as it was when you received it. Moreover, we kindly ask that you provide us with a receipt as proof of purchase. Once we receive your request, we will process it and notify you via email or your contact number whether your return or exchange of your A5 notebook is approved or rejected.
At THEIMPRINT, we offer a variety of options to personalise your A5 notebook. You can choose to emboss your name or a short text, select your preferred font style and colour, and even add emojis to create a truly unique design that reflects your style. Additionally, you can also select between a hardbound or softbound notebook with either lined or blank pages to cater to your personal preferences. Start personalising your A5 notebooks in Singapore with us today.
When you purchase our A5 notebooks, they come packaged in a beautiful turquoise box, with the option to include a complimentary gift card. This ensures that your gift arrives elegantly wrapped, complete with a meaningful message that reflects your attention to detail. This will make the recipient cherish your gift even more. 
The price of your A5 notebooks can vary depending on the level of personalisation you want to get. At THEIMPRINT, we understand that price is an important factor when purchasing a notebook. That's why we offer ours at an affordable price, making it easy for you to find an A5 notebook in Singapore that fits your budget while still accommodating your unique tastes and preferences.
Our team is composed of experienced designers and customer representatives based in Singapore who are passionate about creating high-quality personalised A5 notebooks. We will communicate with you throughout the process to understand your design preferences and then carefully craft each notebook with meticulous attention to detail to ensure that you receive a product that you'll love. We strive to make your shopping experience with us memorable.
If you choose Courier (local) or DHL Express (international) delivery method for your A5 notebook order, you will receive a tracking number after processing, which allows you to easily check the delivery status. However, if you opt for SingPost Normal Mail (local), you won't be provided with a tracking number. To ensure a smooth delivery experience, we highly recommend selecting the Courier delivery method for local shipping.
A5 notebooks are a popular size for journal writing because it is spacious enough for journaling, writing, and drawing, while still being able to fit into a handbag or backpack. A5 notebooks provide a practical and versatile option for capturing thoughts and ideas while on-the-go, all in one compact package. 
The standard size of an A5 notebook is 145 × 210 mm (5.70 × 8.26 in), or half the size of an A4 notebook. Thanks to their compact yet spacious design, A5 notebooks offer both portability and convenience, without sacrificing writing space. This makes them a popular choice, as they are able to cater to diverse needs. 
You can use an A5 notebook for just about any purpose. The most common use of A5 notebooks is for school or work. It can also be used for organising and planning, taking notes, or just jotting down ideas for your current project. Their sleek size makes them a great option for travel, providing a portable tool to boost productivity wherever you go.  
The weight of an A5 notebook varies depending on the weight of the paper. Our A5 notebooks here at THEIMPRINT, weighs about 330g, come with 96 line/blank pages and are made of 100gsm paper. This makes them lightweight for extra convenience so you can bring your notebook anywhere with ease. 
Whether you enjoy making bullet journals, scrapbooks, or are just looking to take notes, A5 notebooks are the perfect size and type for your writing needs. This portable and versatile notebook type can be used for any type of writing, making it a must-have for writers and creatives alike due to its adaptability.