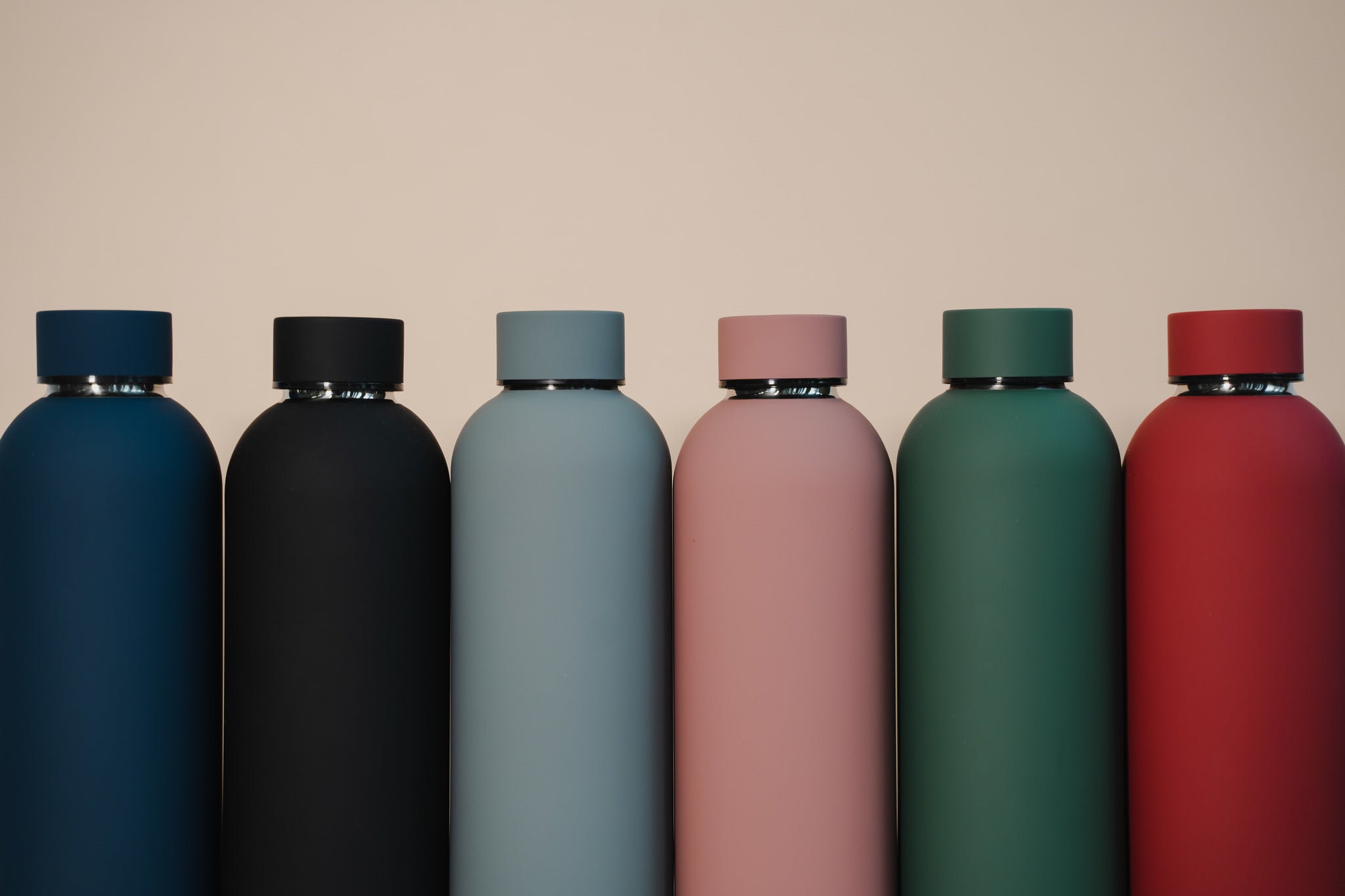 CUSTOMISED WATER BOTTLE AND TUMBLER IN SINGAPORE
Presenting BPA-free and FDA-certified Food Grade Material stainless steel water bottles that function as thermal flasks. Keep hydrated in style with our selection of double-walled, vacuum-insulated and condensation-free water bottles that keep your drinks hot for over 12 hours and cold for 24 hours!
Available in 500ml capacity and leak-proof screw-top caps, these can not only be taken with you anywhere but can also be customised for that extra special touch. Using our proprietary long-lasting UV printing methods, personalise these water bottles with any given name or initials and make them your own! A memorable gift for yourself, family or friends, pick anything from our Hanzu Tumbler Drinking Bottle to our Hiro 18oz Thermal Stainless Steel Water Bottle and customise them with THEIMPRINT in Singapore today!
THE ULTIMATE HYDRATION COMPANION
Are you someone who's always on the go, or do you simply value staying hydrated throughout the day? With THEIMPRINT's customised water bottles, tumblers, and thermal flasks, you no longer have to rush your drink. Our double-walled insulation features keeps your drinks at your preferred temperature for hours, ensuring that you can savour every sip. In addition, they are also capable of withstanding accidental drops and bumps, making our selection of customisable drinkware the perfect companion for all your adventures.
We offer a range of sizes to fit your hydration needs, from compact to large, making it easy for you to stay hydrated no matter what your day holds. Whether you're going out for a quick errand or have a long day at school or the office, we've got you covered. Stay hydrated and energised throughout your day with a customised water bottle, tumbler, and thermal flask that truly complements your lifestyle.
BUY PREMIUM CUSTOMISED WATER BOTTLES AND TUMBLERS
THEIMPRINT's premium customised water bottles and tumblers are the perfect combinations of style and function. Crafted from high-quality stainless steel, they are built to withstand the rigours of daily use, providing you with a reliable, long-lasting hydration solution. With a leak-proof cap, you can carry your favourite drinks with you wherever you go, without worrying about spills or leaks. On top of that, they are also dishwasher safe, making cleaning up and maintaining their quality state a breeze. Whether you're out and about or simply at home, our water bottles and tumblers will quench your thirst in style. Browse our selection online for a practical yet fashionable hydration solution that meets your needs.
WHY CHOOSE CUSTOMISED WATER BOTTLE FROM THEIMPRINT?
Whether you are looking for the ultimate birthday gift in Singapore, a sophisticated teacher's day gift, or a fashionable anniversary gift, finding the perfect gift that is both functional and stylish requires a lot of thought and can be a challenge. But here at THEIMPRINT, we've got you covered with a selection of the most stylish and practical gifts that are designed to last and serve a purpose. Given the humid weather in Singapore, having a handy water bottle with you will surely help with keeping you hydrated throughout the day. If you want to drink in style, get any one of our customisable water bottles that up the ante by keeping your drink hot or cold for hours on end!
FUNCTIONAL AND USEFUL
At THEIMPRINT, we carry quality gifts in Singapore that you can use for yourself or give away as a present. Our featured selection of water bottles are safe to use as they are both BPA-free and made from FDA Food Grade Material. These customisable water bottles also have a double wall and vacuum insulation, allowing you to keep your drinks hot or cold for long!
PERSONALISED AND CUSTOMISED
If you want your water bottle to reflect your taste and personality, getting it customised is the perfect solution. And we hear you! Create your own personalised bottle with THEIMPRINT where you can choose your favourite fonts, texts and colours. Take your pick from 6 versatile shades of thermal flasks: Black, Gray, Rosy Blush, Midnight Blue, Red, and Pine Green. Then, pick the font colour of your choice according to your preference: White or Black. You can also decide between 5 types of fonts: Bold, Formal, Classic, Style, and Mandarin.
So why settle for anything less? Choose THEIMPRINT's premium customisable water bottles and tumblers today.
CONTACT US
With a range of gifts readily available online, make THEIMPRINT your one-stop shop for all your gifting needs. So what are you waiting for? Browse our extensive catalogue of gifts, including our customisable tumblers and surprise your loved ones today! Looking to add more gifts to make it a full package? Our thermal flasks go well with a customised mug! Stay hydrated in style! Place your orders online at THEIMPRINT now. Our lead time is up to 4 days. We also cater bulk orders for thermal flasks.
For more information about our products and delivery time, refer to our FAQ page or reach out to our team in Singapore.
FREQUENTLY ASKED QUESTION ABOUT CUSTOMISED WATER BOTTLES
Our customised water bottles and tumblers are made from high-quality stainless steel, a material known for its durability, resistance to rust and corrosion, and overall sturdiness. You can trust our water bottles and tumblers to withstand everyday wear and tear, ensuring long-lasting use for all your hydration needs. They are carefully designed with durability, reusability, and eco-friendliness in mind. 
Our personalisation options for tumblers are diverse, giving you the flexibility to incorporate your unique touch in various ways. You can customise your tumbler or water bottle by choosing your preferred colour, adding a custom text such as your name or initials, and choosing specific fonts and font colours for it. In addition, you can even brand it with a logo or design of your choice. Easily create a personalised tumbler or water bottle with our convenient customisation options today. 
Our personalised water bottles and tumblers require a production lead time of 1 to 4 working days. If you select the SingPost Normal Mail (Free) delivery method, your order will arrive in 3 to 5 working days. Alternatively, you can choose the Courier delivery method for a faster delivery time of 1 to 3 working days. While for international shipping outside of Singapore, it will take up to 2 to 8 working days.
To maintain the quality of your customised designs and prolong the lifespan of your tumbler, it's best to gently hand wash it with warm water and soap using a soft sponge. Avoid using abrasive materials, harsh cleaners, or bleach, as they can damage the tumbler's finish. With proper handling and care, your personalised tumbler can continue to keep you refreshed for many years to come.
We understand that our customers have unique preferences when it comes to their personalised water bottles, and we're happy to offer a range of customisation options to accommodate them. You can request a specific font, font colour, and text or design to ensure that the water bottle best reflects your style. Our team of skilled designers will work closely with you to create a personalised water bottle that meets your specifications, making it a truly one-of-a-kind item that you'll be proud to own.
Our return policy allows you to return your customised tumbler or thermal flask within 14 days of the original purchase date. Unfortunately, we cannot accept returns or exchanges beyond this period. To qualify for a return or refund, the item must be in its original packaging, unused, and in the same condition as when you purchased it. Additionally, we require a receipt as proof of purchase to process your request.
Yes, you can track your customised water bottle or tumbler once it has been shipped. However, this is only available if you choose the Courier delivery method for local shipping and DHL Express delivery for international shipping, wherein both services provide you with a tracking order number. Unfortunately, if you choose the SingPost Normal Mail option, you will not be able to track your package after it has been shipped.
We are a team of dedicated professionals based in Singapore who offer high-quality, personalised tumblers and water bottles. Our team includes designers, customer service representatives, and production specialists who work together to cater to every customer's request. We are committed to exceeding our customers' expectations by delivering the best possible personalised products and services.
Yes, our customised water bottles are eco-friendly. We use high-quality stainless steel that is durable and reusable, reducing the environmental impact of disposable plastic bottles. Additionally, our production methods prioritise sustainability and waste reduction, further supporting our commitment to eco-friendliness. With every purchase from THEIMPRINT, you can be confident that you are contributing to a safer and more sustainable world.
Yes, our water bottles and tumblers are designed to be dishwasher-safe, making them easy to clean and maintain. They will make cleaning a breeze, allowing you to spend less time on maintenance and more time enjoying your customised products. Our goal is to offer customers a convenient solution for their everyday refreshment use.
Yes, our water bottles and tumblers feature a leak-proof design, ensuring that your drinks stay safe and secure. You can carry our water bottles in your backpack or place our tumblers in your car, without worrying about restricting your movements to avoid spills or leaks. Stay refreshed and organised wherever you go with THEIMPRINT.
Yes, our water bottles and tumblers are designed to keep your drinks at the desired temperature, whether hot or cold. You can enjoy your favourite drinks at your preferred temperature for extended periods thanks to our double-walled, vacuum-insulated designs. Our water bottles and tumblers are the perfect companions for those who enjoy their drinks on the go, offering convenience and quality in one sleek package.
A thermal flask is designed to keep hot liquids hot and cold liquids cold for long hours. This is made possible with the space between the walls which is a vacuum, reducing the heat loss due to conduction and convection. So if you are looking for a convenient way to store your hot and cold beverages without constantly having to cool them in the fridge or boil it again, our customised water bottles are just the solution for you.
A flask is mainly used to store, carry or heat liquids. A thermos on the other hand is used to maintain the temperature of the fluids that are stored within it. Therefore, if you are on the go and need your liquids to be of a specific temperature, our customised tumblers, which function as thermal flasks, are just what you need.
The double walling in the thermal flask traps the heat in your drinks. With no way for the heat to escape, your favourite hot drinks can remain hot for up to 12 hours with the thermal flasks made available by THEIMPRINT. Whether you're a corporate worker or student who needs your hot coffee to stay energised, or just looking for an everyday solution to keep your drinks hot, our thermal flasks are an ideal choice. 
Yes! At least the tumblers designed and made available by THEIMPRINT will keep your drinks cold. As a matter of fact, our customised tumblers in Singapore can keep your drinks cold for up to 24 hours! With our selection of high-quality tumblers, you can stay hydrated and refreshed no matter where your adventures take you.
Stainless steel flasks are safe to use because their material does not rust when exposed to moisture. This material is extremely sturdy, so you can rest assured that it will not get damaged easily. Our Hanzu and Hiro thermal stainless steel water bottles also come with a condensation-free and leak-proof cap.
The main function of a tumbler is to keep beverages hot or cold and protect them while you are on the go. Whether you are heading to work or your child is going to school, a tumbler will keep your liquids just like how you prepared them.
A tumbler is anything that is insulated and allows you to carry your beverages. This means that things like mugs, cups and even water bottles that you can take on the go are considered a tumbler. At THEIMPRINT Singapore, our range of customised water bottles is a tumbler that does all that and more!
Tumblers became popular because of their portability and usefulness. In an age where sustainability is all the rage, drinking from tumblers also shows that you care for the environment by reusing them. Customised tumblers are ideal for corporate gifts in Singapore too, providing your brand with an additional conduit for exposure
A tumbler can be a water bottle and that is exactly what you will find at THEIMPRINT. Our Hanzu and Hiro tumbler water bottles serve the function of a tumbler by keeping your drink hot or cold, and as a water bottle, allowing you to carry your beverages on the go.