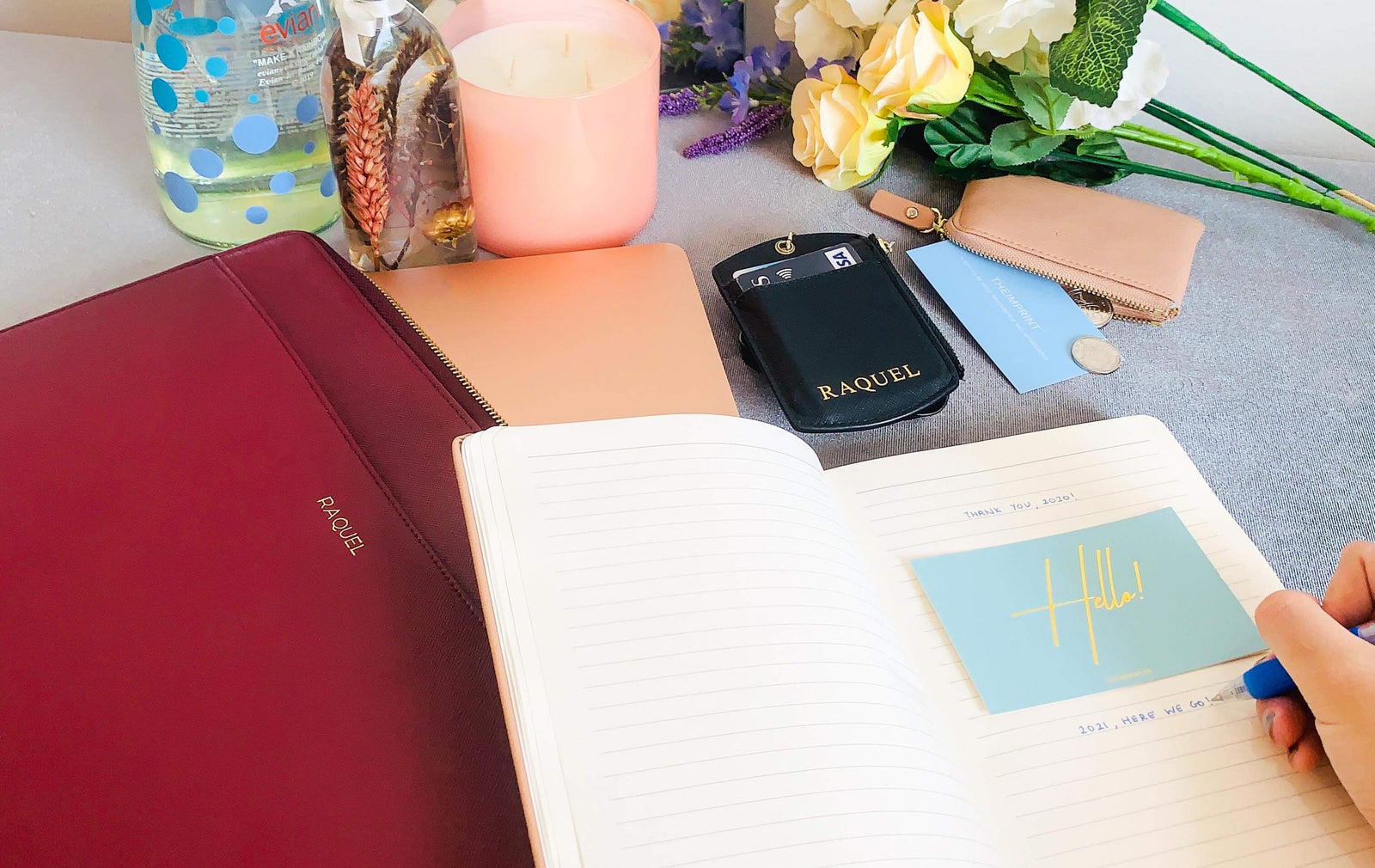 LAPTOP SLEEVES & CASES FROM THEIMPRINT
At THEIMPRINT Singapore, we believe in offering meaningful and personalised gifts. Our journey began in 2012, where we explored the idea of bringing innovative mobile accessories to the Singaporean market. This eventually evolved into producing customised and personalisable gifts that reflect the individuality and uniqueness of the recipient.
We are proud to present our high-quality laptop sleeves and cases, crafted from premium Saffiano Reinforced Vegan Leather. These durable and stylish products not only protect your laptop but also make a statement. With our made-to-order approach, we ensure that every item is freshly printed locally and meets the highest standards of quality.
At THEIMPRINT, we are committed to delivering exceptional products and service, making your gift-giving experience truly special.
THE CHALLENGE IN CHOOSING THE PERFECT LAPTOP BAG
When it comes to choosing a laptop bag, there are various factors that you need to consider, including quality, durability, and style. And if you are looking for a laptop bag that meets all these criteria, THEIMPRINT Singapore offers an excellent solution.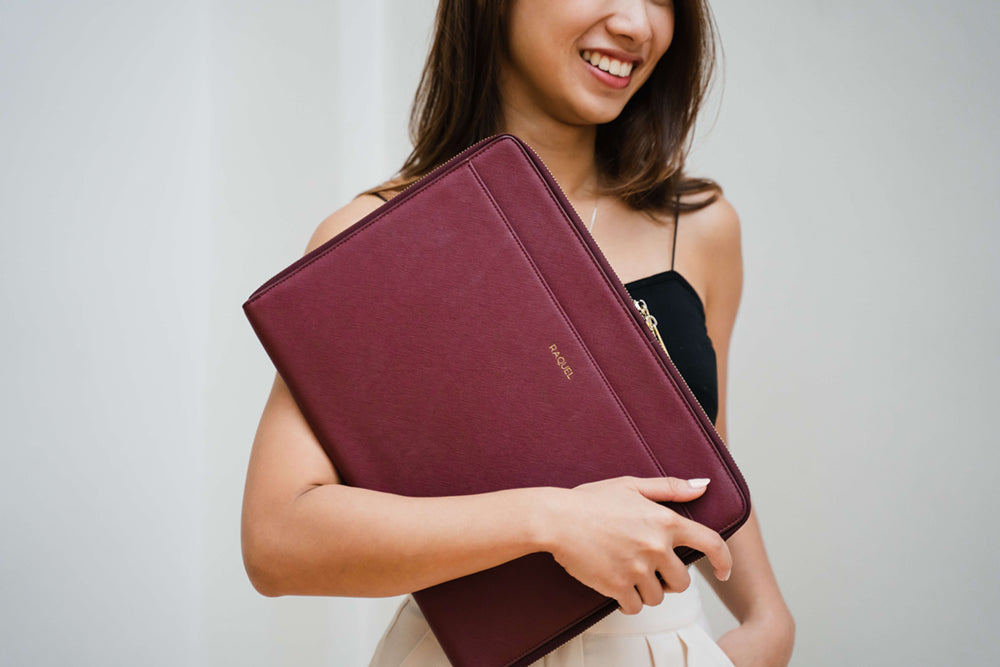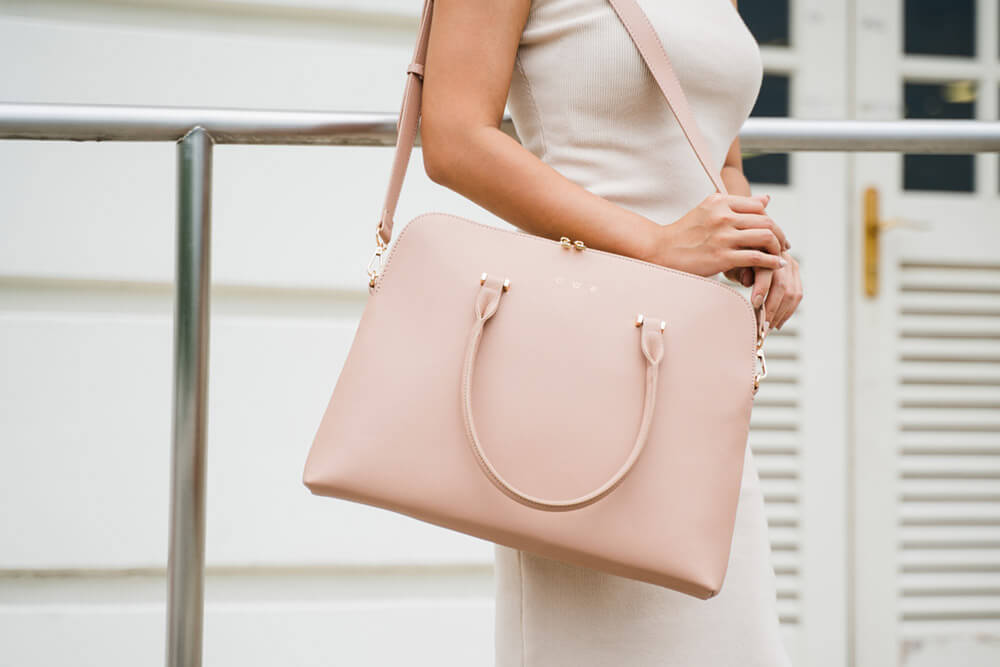 Our laptop sleeve collection at THEIMPRINT Singapore is made with microfibre technology, which enables the leather of the laptop case to last for years to come. We value the quality of our products, so we ensure to only deliver the best to you. Beyond that, we also believe in producing animal-friendly products, which is why all of our bags are crafted from vegan leather. When you purchase a leather laptop bag from us, you can rest assured that no animals were harmed in the production.
FUNCTIONAL AND STYLISH
You don't have to worry about choosing between function and style, our laptop bag and sleeve collection in Singapore proves that you can have the best of both worlds. We offer laptop bags that not only make a safe space to store your laptops but are also great fashion accessories. Make travelling hassle-free and stylish with our sleek and elegant laptop bags. Our wide variety of personalised gifts and customised options is designed to give you an edge in terms of durability, longevity, and aesthetics.
PERSONALISED AND CUSTOMISED
Grab the chance to display your creativity by getting your laptop bag, case, or sleeve personalised or customised in Singapore. This will not only add more value but also make you stand out from the crowd because of the uniqueness it radiates. At THEIMPRINT we offer products exclusively designed for you.
SIZE AND CAPACITY
We understand that laptops come in all shapes and sizes, and so should the sleeves that protect them. That's why our laptop bags and sleeves are available in a range of sizes and capacities to fit your specific needs. Whether you have a compact 13-inch laptop or a larger 15-inch model, our collection has you covered. Each sleeve provides ample space to snugly fit your device, ensuring protection without adding bulk.
QUALITY AND AFFORDABLE
At THEIMPRINT, you don't have to choose between quality and price. We offer the perfect balance between the two. We want our consumers to get only the best deal in Singapore. Find the best laptop bags at the best gift shop in Singapore.
COMFORT AND ERGONOMICS
At THEIMPRINT Singapore, we believe that a laptop bag should not only protect your laptop but should also be comfortable to carry. That's why our laptop bags are designed with ergonomics in mind. Our bags feature padded straps and handles to provide a comfortable grip and prevent strain on your shoulders and hands. The weight distribution is designed to balance the load, ensuring that your laptop and accessories are comfortably carried, even for extended periods.
MATERIAL QUALITY AND DURABILITY
When it comes to material quality, THEIMPRINT leaves no stone unturned. Our laptop bags are crafted using microfibre technology, which makes the vegan leather incredibly durable and resistant to wear and tear. We understand that your laptop is an important and valuable device, so we use only quality materials to protect it. Rest assured, our laptop bags are built to last, providing reliable protection for your laptop year after year.
DESIGN ELEMENTS & FEATURES
Our laptop bags at THEIMPRINT Singapore are not only functional but also stylish. Designed with a minimalist and functional approach, our bags are sure to complement your style. We offer a variety of designs and colours to suit your preferences. 
EXTRA PROTECTION FOR YOUR LAPTOP
At THEIMPRINT Singapore, we recognise how crucial it is to shield your laptop from daily wear and tear. Our laptop bags are crafted with attention to scratch, tear, and abrasion resistance, offering exceptional protection against the usual challenges of daily life. This means not just safeguarding against minor bumps but also ensuring resilience against more rigorous encounters.
Read More
FREQUENTLY ASKED QUESTIONS ABOUT LAPTOP BAGS IN SINGAPORE
Our laptop bags, cases, and sleeves at THEIMPRINT are made of High-quality Saffiano Reinforced Vegan Leather, which is a durable and long-lasting leather that is resistant to scratches and water damage. This material ensures that your laptop will be protected from wear and tear over time while also providing a stylish look. Lightweight, soft and smooth, it is also an animal cruelty-free material. 
At THEIMPRINT, we offer personalisation options for our laptop bags, cases, and sleeves. You can choose the font and colour for your monogram text (gold, rose gold, or silver) and add a gift card to your purchase. Personalisation is a great way to make your laptop accessory unique and truly your own.
The production time for our personalised laptop bags, cases, and sleeves varies depending on the level of customisation required. Typically, it takes around 1 to 4 working days to produce the product. The delivery time will depend on the shipping method you choose. If you choose the SingPost Normal Mail option, it is free of charge but takes three to five working days for delivery within Singapore. For faster delivery, you can choose the courier delivery option for a fee of $4, with a delivery time of one to three working days, or opt for self-collection. 
To care for your laptop bag, case, or sleeve from THEIMPRINT, clean it with a soft, damp cloth and mild soap if necessary, air dry it before storing, and keep it away from direct sunlight. Use a leather or fabric conditioner if it gets scratched, scuffed, or torn. Avoid using harsh chemicals, stacking heavy items, or crushing them. These simple care instructions will help prolong the life of your laptop bag, case, or sleeve and keep it looking its best.
At THEIMPRINT, you can choose from a variety of gift cards to include a personalised message with your order. Additionally, for your personalised laptop bag, case, or sleeve, you can choose the font for monogram details,  along with the text and colour. Please provide any relevant details and specifications when placing your order. Our team will work with you to ensure that the final product meets your expectations.
THEIMPRINT has a return policy of 14 days for laptop bags, cases, and sleeves. Regrettably, if 14 days have elapsed since your acquisition, we are unable to provide a refund or exchange. To qualify for a return, your item must be in its original packaging, unused, and in the same state as when it was received. Moreover, we mandate a receipt or proof of purchase to conclude the return process.
Yes, you can track your laptop bag, case, or sleeve order once it has been shipped, depending on the delivery method you choose. If you opt for the courier option, you will receive a tracking number and can expect delivery within 1 to 3 working days. By selecting the courier delivery method, you can easily track your order and stay updated on the delivery status of your laptop bag, case, or sleeve.
At THEIMPRINT, we have assembled a team of skilled artisans, designers, and enthusiastic individuals who work collaboratively to materialise your bespoke laptop bags, cases, and sleeves. With their extensive experience and unwavering dedication to excellence, they strive to deliver an exceptional level of artistry and precision in every item we produce.
At THEIMPRINT, we prioritise sustainability and ethical practises in our personalised laptop bags, cases, and sleeves. Our laptop bags are made with high-quality Saffiano Reinforced Vegan Leather that is not only cruelty-free but also mimics the microscopic structure of genuine leather. This means that you can revel in the same levels of durability and quality offered by real leather.
For our laptop bag, the dimensions are L 43.0cm by W 7.0cm by H 30.0cm, with a handle height (from top handle to zip) of 14cm and a strap length of 40cm - 46cm. It is designed to fit a 13 - 14-inch Macbook Pro. As for our laptop sleeves, they are designed to fit laptops with sizes ranging from 13-16 inches.
When choosing a laptop bag, consider the size of your laptop, the purpose of the bag, the amount of storage you need, the type of material, and the comfort of the straps. Ensure that the bag is the right size for your laptop, and think about whether you need a bag for daily use, travel, or business meetings. 
A laptop bag can have multiple compartments where you can store your laptop, accessories, or additional documents. It comes with a handle or strap that makes it easier to carry around. While a laptop case only acts as a protective shell that fits into your laptop to protect it from dirt or scratches. It adds an extra layer of protection to your laptop. Meanwhile, a laptop sleeve is a lightweight cover made of soft, stretchy materials that protects your laptop from scratches and minor damage.
This is highly dependent on your personal preferences. If you are looking for a casing that functions as a fashionable pouch for you to slot your laptop so that you can carry it in your bags, then a laptop sleeve is worth considering. However, if you are looking for a laptop case that functions like a bag with handles, then a laptop bag is worth considering. At THEIMPRINT Singapore, we have both options available online. 
Given that your laptop will be put on sleep mode or turned off before being placed in a laptop case, you can rest assured that no overheating will occur. Serving as a form of protection from liquids, dust, and scratches, a laptop case offers more protection than anything. However, be sure not to place your laptops on top of the laptop case while you are working. 
CUSTOMISED LEATHER LAPTOP BAGS, SLEEVES AND CASES
Besides looking sleek and elegant, we can give your laptop bag a touch of personalisation by embossing your name on it. Crafted from high-quality leather, our laptop sleeves are not only extremely lightweight but also durable. Moreover, our laptop bag comes with an additional side pocket to store your notebook, phone, or any important documents, bringing convenience to a whole new level. The best thing is – our laptop sleeve at THEIMPRINT Singapore is extremely lightweight. Hence, it does not add additional weight on top of your current laptop, making it ideal for travel.
At THEIMPRINT Singapore, we offer diverse options for you to customise your laptop case to your unique specifications. Take your pick from 4 versatile shades of laptop bags: Black, Navy, Burgundy, and Nude. Then, pick the font colour of your choice according to your preference: Gold, Rose Gold, or Silver. You can also decide between 2 types of fonts: Classic and Minimalist. This makes it a highly personalised gift for men and women alike.